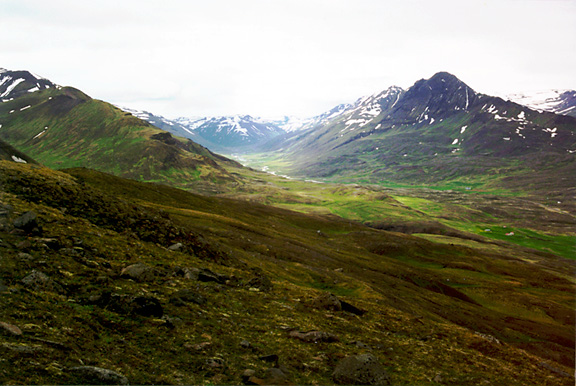 View up Öxnadalur from the slope of Landafjall.

It is by no means certain that Landafjall, the mountain behind Steinsstaðir, was in Jónas's mind when he wrote "Gathering Highland Moss." If it was, however, then this is the view his two protagonists will have seen when they had climbed about halfway up to Steep Shelf, reaching the point where they stopped to rest for the first time. Steinsstaðir itself is out of sight in the right foreground.

Source: Photo Peter C. Gorman.

Copyright © 1996-8 Dick Ringler. All rights reserved.



For technical assistance:
Library Technology Group
University of Wisconsin-Madison
General Library System