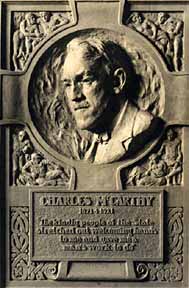 To
THE HARD-HANDED MEN WHO BROKE THE PRAIRIE, HEWED THE FORESTS, MADE THE ROADS AND BRIDGES, AND BUILT LITTLE HOMES IN THE WILDERNESS.
TO THE NORSE LUMBERJACK AND THE "FORTY-EIGHT" GERMAN AND THE MEN OF THE "IRON BRIGADE," AND ALL TOILERS WHO, BY THEIR SWEAT, MADE POSSIBLE OUR SCHOOLS, A GREAT UNIVERSITY, AND ALL THE GOOD THAT IS WITH US.
TO THE LEGISLATORS, ALWAYS CRITICISED AND NEVER PRAISED.
"THEY THAT DIG FOUNDATIONS DEEP,
FIT FOR REALMS TO RISE UPON,
LITTLE HONOR DO THEY REAP,
OF THEIR GENERATION."
KIPLING.