To thousands, especially the preachers, teachers, merchants, the bright minds of hundreds of communities in southern and western Wisconsin, Madison suggests first of all the "Lakeside Assembly." Of the over an hundred such projects--so-called "Chautauquas"--but few are larger than this one at Madison and none commands more respect for the disinterestedness and dignity of its methods. While many of these institutions are palpably private speculations of a real estate or trolley character, often short-lived, badly and sometimes discreditably managed, the Madison Chautauqua year after year puts up a two weeks' programme carefully arranged long in advance and furnishes entertainment, instruction and inspiration to hundreds of families who came within the Lakeside enclosure on the shore of Third Lake.
For nearly twenty-five years this has been going on. The growth has been most substantial. Some years have been better than others. The weather occasionally makes a bad week for tenters, or some other condition militates against a large crowd; but year in and year out, the net result is progress. Gradually the plant has been extended (any surplus being applied to equipment), until now there are accommodations for a large "season" crowd and for 15,000 who come "over for the day" to hear some particular speaker--and McKinley spoke to such a gathering at Lakeside.
The auditorium is a superb building--unique, too. It is built after the fashion of an umbrella, with the handle cut off a short distance below the apex. Anyway the result is that there are no posts to impede the vision of one of the 5,000 persons for whom there are seats; while including "standing room" 15,000 persons can and do enjoy the notable programmes given at Lakeside. The success of the institution--which is a great boon to Madison people, for at the Assembly they hear the best living speakers of their own country and many from abroad--the best musicians, and elocutionary talent, too; and all other forms of entertainment that are wholesome--the success we say of our Lakeside Assembly is largely due to Mr. J. E. Moseley, who for half a century has been an active figure in the business interests of Madison. Mr. Moseley is perhaps the best known Chautauqua manager in the country, with the exception of Vincent, and perhaps Davidson. The recent election of Mr. Moseley as president of the International Chautauquan Alliance indicates the estimation in which he is held in the craft.
Lakeside is indeed a beautiful spot. The fact that great numbers return literally every summer of their lives, to bathe in the waters, to row, sail and fish on the lakes, to enjoy the shade of the groves and the restfulness of the cool banks, all this must suggest to strangers what a paradise this city of Madison is, which has this Chautauqua but ten minutes' distance by boat from the heart of the city.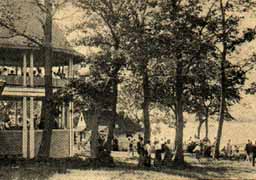 Ice cream, lake breezes and sparkling eyes