...After leaving Darling's I rode three and a half miles across the prairie where I saw Indian mounds. Found a ridge running parallel to Lake Winnebago to Tacheeda, where there is a store and five or six neatly painted frame houses. Lake Winnebago is covered with ice, I could not see the north coast. I came very near perishing last fall on this lake about one mile from shore in a shallow place.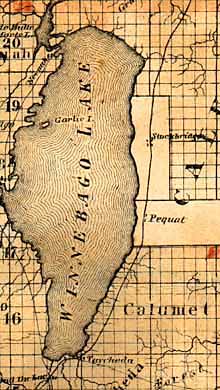 Brothertown Indian Dwelling
Beyond Tacheeda I met teams hauling limestone from the "Ledge" giving evidence of enterprise and improvement. Overtook two Brothertown Indians, one with a wooden leg, took them into my cutter, they were very polite, intelligent and thankful for the short ride.
... Stopped at Fowler's seventeen miles from Fond du Lac, forty-two from Green Bay and sixty-four from Milwaukee. Brothertowns first settled here nine years ago, they have lost their language and speak English. Passed Doty's road from Sauk Harbor yesterday. ...
... I left Fowlers on the 22nd at 8 o'clock. The weather clear and cold, I needed all my furs. First eight miles all Basswood, sixteen miles began to see Pine with other trees, it soon became common and continued to Green Bay. Struck the Neenah [Fox] river fifteen miles above the Bay, it is a broad stream, banks high and bold and continued so to the Bay.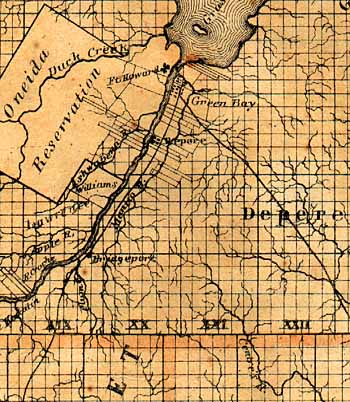 Depere a pretty town,--some aircastles. Dam partially repaired, saw mill in operation. Thence to Green Bay, appearance, of an old country, many houses decaying. Put up at the 'Astor House' kept by Mr. Green, on the 22nd. The three following days attended to business. Visited Mr. Ellis, member of Legislature who resides near here. Rode to Depere twice.
Sunday the 26th. Last night a severe gale with snow commenced which continued through this day and night, the severest storm of this winter. The Astor House was made in the day of speculators, does not stand plumb, rooms cracked, large snow drifts forced through cracks in every window and door, well furnished and as well kept as can be at Green Bay. ...
Mr. Horner, formerly Governor of Michigan, now of the Land Office at Green Bay, stops at the Astor House. Mr. Martin, another member, arrived from Milwaukee. A Lyceum formed here, also a Temperance Society.
Started for home at 3 o'clock Feb. 27th, rode twenty-four miles to a tavern. Here the storm which commenced at Green Bay in the night, did not commence until about noon--singular for it blew in this direction. S. W.
On the 28th I rode to Juneau on the Rock river fifty-five miles, reaching home, forty-six miles on the 1st of March.