Elizabeth Yates Atkinson was born in Liverpool, in 1830. At an early age her parents brought her, after a voyage of a month; to Montreal, where she received her education.
While she was still a young girl, her father felt the urge of the far West--Wisconsin--and made his home in the southern part of this state. The isolated life, and sharing the care of a little invalid sister had much influence upon her and helped develop the tendency to verse making she had always.
At the age of twenty she married Norman Richmond of Milwaukee, and there began writing, under the name of Aelizabeth, for various publications of the day.

Milwaukee 1853
They removed to Appleton, where the Richmond Brothers built the first papermill in the Fox River Valley.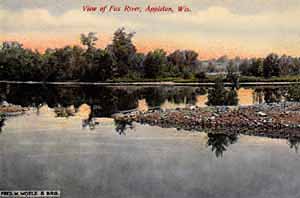 Those days of pioneer life were full of self-sacrifice and devotion and exquisite friendships.
Living for some years on a bluff overlooking the river, which the children crossed, by boat in summer and on the ice in winter to attend school, was a trial.
Tales of The Western Land is her only published book.