Milwaukee, Wisconsin, 1887
Veterans of Company I, 29th Wisconsin Infantry at G. A. R. reunion.
Center group, standing from left to right: F. Leonard, J. Gould, F. F. French, P. Tubbs, E. Allen, J. H Welsh, C. Merrill. Seated, from left to right: O. Chapman, J. Rector, D. Rice, W. Coon, T. Taylor, J. Kern, M. Andrews, I. M. Allen, R. Alton, J. C. Sayler, T. Stephens, O. Peterson, and J. Gardner. First Captain of the Company, Oliver C. Bissell, was not present.
---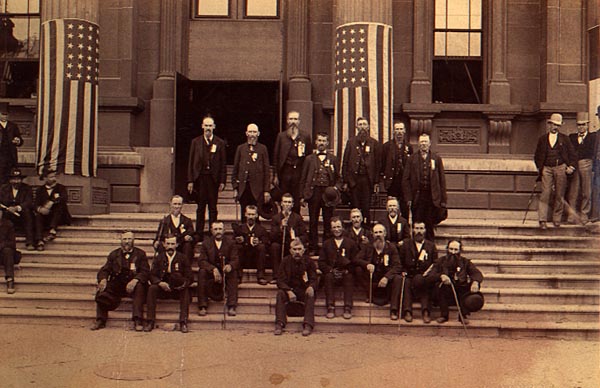 ---
From the copy owned by the State Historical Society of Wisconsin Visual Archives: Album 16.69