---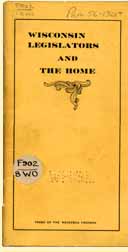 Wisconsin Legislators and the Home
INTRODUCTION.
The conservation of the home, its interests and its ideals is, always has been, and ever shall be woman's special business.
Industrial changes have revolutionized housekeeping and home-making. Three-fourths of women's work has gone out of the house and is regulated and controlled by legislation; thus it has become imperative for every intelligent, conscientious woman to know of the laws which concern herself personally or her life work.
Eighteen hundred and forty-seven bills were introduced in our last legislature. About sixty of these bills concerned women as mothers, wives, home-makers or wage earners. Did your Senator and Assemblyman represent you? If so he should receive your endorsement regardless of his party affiliations. If not your influence should be used in electing a man who will.
The Initiative, Referendum and Recall provisions come up at the fall election. These measures have been powerful weapons in the hands of women throughout the country wherever used. Club women throughout the state should hold special meetings tending to promote agitation and education on the importance of these measures. Begin now and keep it up.
FOREWORD.
For the convenience of the reader the bills mentioned in this pamphlet are grouped under the following heads: Child Welfare, Pertaining to Women, Concerning the Home, Educational, Public Health, Manufacture and Sale of Liquor, Miscellaneous.
For sale by
WISCONSIN WOMAN'S SUFFRAGE
ASSOCIATION.
Waukesha, Wis.
-or-
ADA L. JAMES,
Chairman of Legislative Committee,
Richland Center, Wis.
---
225 S.--Extending right of suffrage to Women.
Passed. Vetoed by Governor.
SENATE VOTE.
AYES--Bishop, Bosshard, Culbertson, Cunningham, Glenn, Hoyt, Huber, Linley, H. C. Martin, Monk, Scott, Skogmo, Snover, Teasdale, Tomkins, True, Zophy.
Total 17.
NOES--Ackley, Albers, Bichler, Burke, Husting, Kellogg, Kileen, A. E. Martin, Ferry, Randolph, Richards, Stevens, Weigle, White, Weissleder.
Total 15.
ASSEMBLY VOTE.
AYES--Allison, Anderson, Bartingale, Bingham, Carpenter, Chinnock, Dolan, Dorn, Engebretson, Everett, Frederick, Gannon, Goff, Gorecki, Grinde, Gulickson, Hall, Hall, Hawn, Heden, Holmes, Hull, Hurlbut, Jennings, Jenson, A. Johnson, Johnson, Johnson, Kiefer, Larsen, Laursen, Laycock, McComb, Meland, Millar, Minkley, Nordman, Nye, Paul, Peavy, Pfennig, Rhea, Richards, Richardson, Rosa, Schnitzler, Sharp, Smith, Sommerfield, Spoor, I. N. Stewart, Vint, Zinn.
Total 53.
NOES--Bowe, Clancy, Conway, Dietrich, Dietrich, Estabrook, Hamata, Hansen, Hedding, Hinkel, Hood, Hoverson, Kneen, Krueger, Lentz, Mahon, Manning, Murphy, O'Day, Ott, Paulu, Roessler, Roethe, Scanlan, Schilling, Schultz, Smart, T. A. Stewart, Telfer, Urquhart, Viebahn. Zillier.
Total 32.
ABSENT--Battis, Burke, Guidice, Grimsrud, Litza, Mory, O'Connor, Pickart, Potts, Ringle, Sawyer, Schindler, Stemper, Walsh, Whiteside.
Total 15.
---
Wisconsin Legislators and the Home. Waukesha: Waukesha Freeman Press, 1913? 1-2, 11-12.
From the pamphlet collection of the State Historical Society of Wisconsin: Pam 56-1301