---
John R. Commons
from

Wisconsin Authors and Their Works 1918


by

Charles Rounds
---

John Commons

Professor John R. Commons is one of the nation's foremost writers and lecturers on Political Economy and Sociology. He was born in Ohio in 1862 and received his higher education at Oberlin and Johns Hopkins. He taught Political Economy and Sociology at Ohio Wesleyan, Oberlin, Syracuse, and Indiana Universities from 1890 to 1901. He then was connected with the Industrial Commission and the National Civic Federation until 1904, since which time he has been Professor of Political Economy at our State University. He is the author and editor of many books in his field of study.


Commons as student

Professor Commons has the habit of reaching his judgments from careful observation of actual facts. The selection given here well illustrates this point. Few men have had greater opportunity to observe society and social conditions, especially as regards the conditions under which our laboring people work and live.


Professor Commons

LABOR AND ADMINISTRATION

From Chapter XX, Industrial Education in Wisconsin, pp. 363-365. Published by permission of The Macmillan Company.

What is the part, that industrial education should perform in preventing vagrancy, irregular employment, and pauperism?


Milwaukee

Before we can answer the question we need to know what kind of industrial education we mean, and what kind of industry it is that needs this education.


Children of Racine Orphanage

If we want to see the industries of Wisconsin, let us begin, not at the factory or shop or farm, but at the Free Employment office in Milwaukee. Stand for an hour in that office and see the hundreds of men and boys waiting for jobs to turn up. There is the spot in the state where you can see passing before you, in miniature, the panorama of modern industry. For, industry is not merely the machiner and shops, nor even the commodities turned out in amazing quantities, but it is mainly the boys and girls entering the shops and the men and women coming out. These are the commodities that the state is interested in. These are the machines that the state must depend upon for its future food, clothing, and shelter, for its politics, its prosperity, and its power of endurance.
We are accustomed to measure prosperity by the millions of dollars' worth of cheese and butter and machinery and leather put out and placed on the market. Let us measure it by the thousands of men and women turned out and placed upon the labor market. What shall we say of a factory that hires and discharges a thousand men and boys in one year in order to keep up a steady force of three hundred? Modern industry must employ a hundred and fifty to five hundred men every year in order to keep a hundred positions steadily filled. Here is a kind of raw material taken in every day and a kind of half-finished product poured out, that means more for the state of Wisconsin than its inflow of pig iron and its outflow of machinery. As you look at the panorama passing through the employment office you see the human products of Wisconsin's prosperity.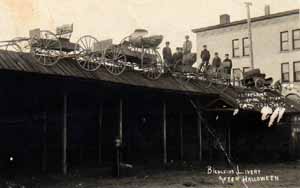 After Halloween
You are astonished at seeing the crowds of boys and young men--the army of the semi-skilled. You offer them a position at a dollar or a dollar and a quarter a day, where they can learn a trade or get promotion, and they laugh at you. They have been spoiled. They could earn that much before they were sixteen years old! At the age of seventeen or eighteen they have been earning eighteen to twenty cents an hour--twice as much as you offer them. To the boy of sixteen, twenty cents an hour, at a two-months job, looks bigger than the fifty cents or a dollar an hour and steady work at the end of a ten-year line of future promotion. He has suddenly found himself earning more than his immigrant father.
Why is it that these boys do not look ahead? Why do they not know that twenty cents is the highest they will ever earn? That they will scarcely hold such a job more than four or five months? That ten years from now they will be loafing in the back part of the employment office with the flotsam and jetsam that they already see behind them, vainly waiting for a twenty-cent job of two or three days, or else hopelessly accepting, for the rest of their lives, an old man's job at a dollar or so a day, long hours and Sundays thrown in?
---
"John R. Commons." Wisconsin Authors and Their Works. Madison: The Parker Educational Company, 1918. 299-301.
From the GLS Department of Special Collections reference room: PS 283 W6 R6 1918.