---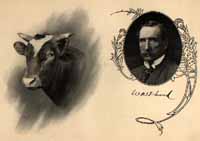 The Father of Modern Dairying
from

It Happened Here


by

Margaret G. Henderson, Ethel Dewey Speerschneider, and Helen L. Ferslev 1949
---
We are proud that Wisconsin leads our country in the making of cheese and other milk products. Climate, water, and grasses make Wisconsin a good home for the dairy cow.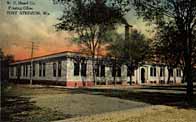 Settlers from Switzerland and New York who had been dairy farmers brought that occupation with them. But even so, Wisconsin would not be so far in the lead except for the work of one man, William D. Hoard.
Mr. Hoard, editor of a country newspaper, was much interested in dairying. He printed many helps for dairy farmers. What he wrote was so interesting that farmers liked to read it, and there was so much common sense in it that they followed Mr. Hoard's advice.

Here are two clever sayings from Mr. Hoard's paper:
"Speak to a cow as you would to a lady."
"Remember that a cow is a mother and her calf is a baby."
Mr. Hoard believed that a cow could not be good as a milk cow and good for beef too. He said that farmers in Wisconsin would make more money by raising cows only for milk. He used this little story to prove his point:
"There isn't a single boy in the state who would go hunting foxes with a bird dog or would hunt birds with a fox hound. Not a boy in the state would do it! You can't fool a boy, but you can fool his daddy! There are a whole lot of dairy farmers in this state who are hunting butter fat with a beef animal."
| | |
| --- | --- |
| alfalfa | Mr. Hoard experimented with alfalfa, a purple-flowering crop that he knew was good food for cows. At first people were afraid to depend upon it. They thought it could not be grown year after year in a climate as cold as ours. Mr. Hoard bought a farm and tried it out. The farmers saw that he was right, and now Wisconsin has become a leading alfalfa-growing state. |
Mr. Hoard urged dairymen to use silos to solve the problem of cheap winter food for cattle. He preached the use of the Babcock Milk Test to measure the amount of butterfat in milk. He showed how necessary it was to test herds of cows for tuberculosis so that the disease would not spread to people.

In all these things time has proved that William D. Hoard was right. With such a leader, is it any wonder that Wisconsin became a dairy state?


Stephen Babcock in his lab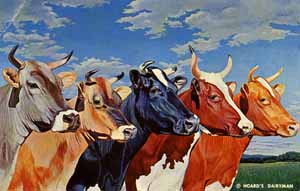 ---
"The Father of Modern Dairying." Henderson, Margaret G., Ethel Dewey Speerschneider and Helen L. Ferslev. It Happened Here: Stories of Wisconsin. Madison: State Historical Society of Wisconsin, 1949. 208-210.
Copyright 1949 by the State Historical Society of Wisconsin. Used with permission.
From the Stacks of Memorial Library, University of Wisconsin, Madison: F 581 H45.