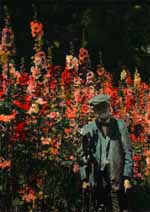 Babcock & his hollyhocks
Dr. Babcock was known for his common sense as well as his attention to detail. If anyone asked him a question and he was not sure of the answer, he never guessed at it. With a merry laugh he would answer, "You may search me!"
He did not like telephones. He said a telephone was a nuisance and disturbing to him. He never had one in his own home, but the University insisted that he have one in his office. After he had been interrupted several times the first day, he settled the matter. He took the receiver off the hook. Nobody could get him, so finally a repair man was sent over. Then the president of the University said, "Dr. Babcock must keep the receiver on the hook." Stephen Babcock managed that too. He just didn't hear the telephone when it rang.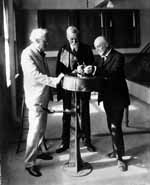 Dean Henry, President Chamberlin, Dr Babcock & the milk tester