Menomonie, Wisconsin, 1870
Knapp, Stout & Company saw mills. The company, which became the largest lumber concern in the United States, began operations in 1846 when William Wilson and John H. Knapp bought a small mill on Red Cedar River, from David Black. Black retained some interest in the mill and it was known as Black & Knapp until 1850. When Henry Stout bought an interest in 1853, the name was changed to Knapp, Stout & Company. In 1856 a fire burned the plant, and they rebuilt a larger one that was used through the 1890's. By 1870 they had virtually complete control of the Menomonie (Red Cedar) River valley and in 1878 they incorporated as the Knapp, Stout & Company Lumber Company. During the 1880's they continued to expand, buying land and mills in Wisconsin, Missouri, Arkansas and Mississippi. They also had offices and yards at Dubuque, Iowa and Read's Landing, Minnesota. "It became as near being a monopolistic unit as the economics of the lumber industry permitted."
Cf. Empire in Pine, by Robert F. Fries, State Historical Society of Wisconsin, 1951, pp 124-28.
---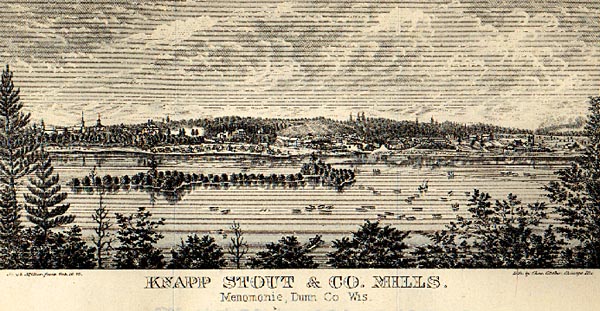 ---
From the copy owned by the State Historical Society of Wisconsin Visual Archives: Album 23.102