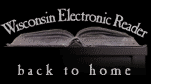 About the Wisconsin Electronic Reader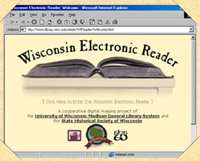 The Wisconsin Electronic Reader is a cooperative project of the University of Wisconsin General Library System and the State Historical Society of Wisconsin in celebration of the sesquicentennial of Wisconsin statehood.

Original Material selected and compiled by Betty Ferris, editor.

Digital Production and Site design by the Digital Production Facility of the GLS:
Project Coordinator: Steven Dast
Production Staff: Jennifer Iserman


Underlying graphic design and logo concept for the Wisconsin Electronic Reader provided by Christopher Parr Internet Design

Project Steering Committee:

Ken Frazier
Steven Dast
Betty Ferris
Peter Gorman
Peter Gottlieb
Sandra Paske
Lou Pitschmann
Deb Reilly
Mary Tipton
The Wisconsin Electronic Reader project was originally conceived and initiated by Ken Frazier
This project is funded in part by the Wisconsin Sesquicentennial Commission with funds from the State of Wisconsin and other individuals, organizations and the following corporate contributors:
Trailblazer Contributors:
AT&T,
SC Johnson Wax,
The Credit Unions of Wisconsin
Voyageur Contributors:
Firstar, Harley-Davidson, Inc.; Marshall & Ilsley Corporation; Philip Morris Companies: Miller Brewing Company, Kraft Foods/Oscar Mayer Foods Corp., Philip Morris USA; Wisconsin Manufacturers & Commerce
Founder Contributors:
3M, ANR Pipeline Company, Blue Cross/Blue Shield United of Wisconsin, Crandon Mining Company, DEC International, Inc., General Casualty, Home Savings, John Deere Horicon Works, Johnson Controls, Kikkoman Foods, Inc., Kohler Co., Marcus Theaters Corporation, Michael, Best & Friedrich, Midwest Express Airlines, Northwestern Mutual Life Foundation, Promega Corporation, Robert W. Baird & Co. Inc., Snap-on Incorporated, Time Insurance, Weyerhaeuser, Wisconsin Central Ltd., Wisconsin Power & Light Foundation, Wisconsin Public Service Foundation
Badger Contributors:
A. O. Smith Corporation, Allen-Edmonds Shoe Corp., Badger Mining Corporation, Briggs & Stratton Corporation, Case Corporation, Consolidated Papers, Dairyland Power Cooperative, Fort James, Green Bay Packaging, Inc., Jockey International, Inc., Jorgensen Conveyers Inc., Kimberly-Clark Corporation, Mann Bros., Inc., Marcus Corporation, Marshfield Clinics, Modine Manufacturing Company, National Business Furniture, Inc., Oscar J. Boldt Construction Co., Pizza Pit, Ltd., Rockwell Automation/Allen-Bradley, Rust Environment & Infrastructure, ShopKo, Twin Disc, Incorporated, U.S. Cellular, Virchow, Krause & Company, LLP, Wausau and Mosinee Papers, Wisconsin Counties Association



Questions or comments about this site should be directed to the Digital Collections Center, University of Wisconsin Libraries.