Vesturfer­ir
┴ sÝ­asta fjˇr­ungi 19. aldar flř­u margir ═slendingar fßtŠkt og erfi­leika Ý heimalandinu og hÚldu til Vesturheims Ý von um betra lÝf. ┴ ■essum tÝma gat hi­ Ýslenska bŠndasamfÚlag ekki brau­fŠtt vaxandi Ýb˙afj÷lda og ■ar sem ■orpsmyndun var lÝtil sem engin, neyddust margir til utanfer­ar til a­ eiga von um a­ komast af. SlŠmt tÝ­arfar og eldgos juku einnig ß h÷rmungarnar. Fyrsta hˇpfer­in vestur var farin ßri­ 1873, en ß­ur h÷f­u nokkrir mormˇnar haldi­ til Utah og fßeinir einstaklingar til Wisconsin Ý BandarÝkjunum. Auk ■ess fˇru litlir hˇpar til BrasilÝu. Upp frß ■essu tˇk fˇlk a­ streyma vestur um haf og fram til ßrsins 1914 fluttu alls 15.000 ═slendingar til Vesturheims. Var ■a­ mikil blˇ­taka fyrir fßmenna ■jˇ­.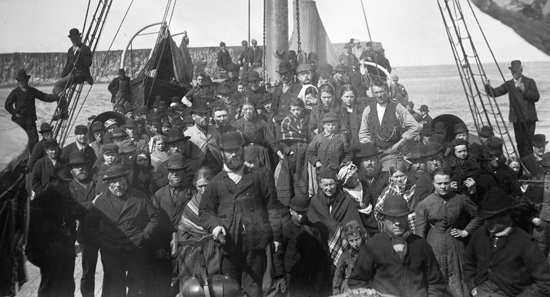 Vesturfer­irnirar voru mikil blˇ­taka fyrir Ýslenskt samfÚlag, tali­ er a­ allt a­ ■ri­jungur ■jˇ­arinnar hafi flutt af landi brott (The emigration took a heavy toll of Iceland's populace, as much as third of the population is thought to have emigrated).
Langt fram ß 20. ÷ld var til ÷flugt Ýslenskt samfÚlag vestra og eru ■eir sem fluttu vestur um haf jafnan kalla­ir Vestur-═slendingar.
Vi­ ßr■˙sundamˇt eru Kanadamenn, sem a­ einhverju e­a ÷llu leyti eru af Ýslensku bergi brotnir, taldir hßtt Ý 200 ■˙sund. Ekki er lengur liti­ ß ■ß sem Vestur-═slendinga, heldur Kanadamenn e­a ÝslenskŠtta­a Kanadamenn.
Komi­ hefur veri­ upp sÚrst÷ku minjasafni um vesturfer­irnar ß Hofsˇsi Ý Skagafir­i.
---
TEI markup ę Board of Regents of the University of Wisconsin System, 2004. All rights reserved.
Those interested in using these texts for any purpose not covered under Fair Use must seek the permission of Stofnun Sigur­ur Nordals and the University of Wisconsin-Madison Libraries.