Aušlindin ķ sjónum
Mišin umhverfis Ķsland eru einhver hin gjöfulustu ķ heimi. Landgrunniš er mjög vķšįttumikiš, um 758 žśsund ferkķlómetrar aš stęrš, og žar blandast heitir og kaldir hafstraumar. Žaš skapar kjörašstęšur fyrir žį fęšumyndun sem er naušsynleg fyrir višgang fiskistofnanna.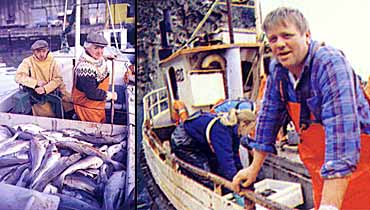 Smįbįtaeigendur keppa um fiskinn viš togarana og stęrri skipin (Fishermen on small boats compete with owners of trawlers and large boats for the right to catch the fish).
Klak- og ętisslóšir fjölmargra nytjafiska eru į ķslenska landgrunninu og ekki fęrri en 293 mismunandi fisktegundir hafa veriš skrįšar į Ķslandsmišum. Tķu tegundir mynda uppistöšuna ķ fiskveišunum, en samtals eru um 40 tegundir nżttar.
Aušlegš hafsins byggist į viškvęmu samspili vistkerfa og Ķslendingar vita aš ekki einungis nįttśruhamfarir og breytingar į vešurfari geta haft alvarlegar afleišingar ķ för meš sér, heldur einnig slęm umgengni viš aušlindina.
---
TEI markup © Board of Regents of the University of Wisconsin System, 2004. All rights reserved.
Those interested in using these texts for any purpose not covered under Fair Use must seek the permission of Stofnun Siguršur Nordals and the University of Wisconsin-Madison Libraries.