Įr og vötn
Įr į Ķslandi eru fjölmargar. Annars vegar eru jökulįr meš gruggugu vatni sem eiga upptök sķn ķ jöklum. Hins vegar bergvatnsįr meš tęru vatni. Įrnar eru fremur vatnsmiklar vegna mikillar śrkomu į landinu.
Laxveišar eru vinsęlt sport ķ ķslenskum įm. Žęr eru dżrt sport og einkum stundašar af efnašri Ķslendingum og rķkum śtlendingum. Gętir nokkurrar óįnęgju mešal ķslenskra sportveišimanna vegna hins hįa veršlags į veišileyfum.
Einkennandi fyrir ķslenskt landslag eru hinir fjölmörgu fossar landsins. Žekktastur žeirra er Dettifoss (44 m), vatnsmesti foss Evrópu. Ašrir žekktir fossar eru Gullfoss (32 m), og Skógafoss (60 m).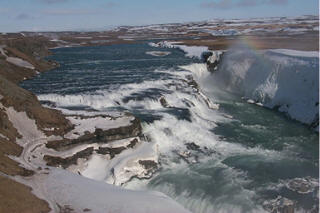 Gullfoss ķ Hvķtį (Gullfoss (Gold Waterfall) in Hvķtį (White River)).
Mörg vötn eru į Ķslandi en flest žeirra eru lķtil. Stęrst er Žingvallavatn ķ Įrnessżslu (84 km2). Žaš myndašist viš misgengi jaršlaga og liggur ķ miklum sigdal. Tvęr eyjar eru į vatninu, Sandey og Nesjaey. Mikil sumarbśstašabyggš er viš vatniš.
Mżvatn ķ Sušur-Žingeyjarsżslu į Noršurlandi er žekkt um allan heim fyrir stórkostlegt landslag og aušugt fuglalķf, m.a. er žar eitt mesta andavarp ķ heimi. Žar verpa allar ķslenskar andategundir, žeirra į mešal hśsönd en hśn verpir hvergi annars stašar ķ Evrópu. Hraun umlykur vatniš į alla vegu og eru strendur žess mjög vogskornar. Mikil veiši er ķ Mżvatni og lķfrķki žess afar fjölskrśšugt.
---
TEI markup © Board of Regents of the University of Wisconsin System, 2004. All rights reserved.
Those interested in using these texts for any purpose not covered under Fair Use must seek the permission of Stofnun Siguršur Nordals and the University of Wisconsin-Madison Libraries.