Ķsland ķ NATO, bandarķskur her
Žegar hafinn var undirbśningur aš stofnun Atlantshafsbandalagsins (NATO), og Ķslendingum bošin ašild, var deilt um utanrķkisstefnu landsins. Ķsland var eina žjóšin ķ bandalaginu sem ekki hafši eigin her né ašrar landvarnir. Yfirgnęfandi meirihluti var žó į Alžingi fyrir ašildinni og hśn samžykkt.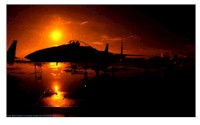 F-15 orrustuflugvél Bandarķkjahers bašar sig ķ nętursólinni į Keflavķkurflugvelli (A U.S. F-15 fighter jet with the midnight sun in the background at the Keflavķk Air Base).
Žegar įstand heimsmįla varš aftur ótryggt vegna Kóreustyrjaldar 1951 var samžykkt aš Ķslendingar geršu varnarsamning viš Bandarķkin fyrir hönd Atlantshafsbandalagsins og fįmennt bandarķskt herliš yrši stašsett ķ landinu. Meš žessu var lagšur grunnur aš žeirri stefnu ķ varnarmįlum sem hefur veriš fylgt sķšan. Bandarķsk herstöš er stašsett ķ Reykjanesbę, skammt frį Keflavķk.
Margir voru ósįttir viš įkvaršanir stjórnvalda og hrópušu: "Ķsland śr NATÓ, herinn burt!", ,,Ķslenski fįninn, bandarķski bjįninn!" og żmis mótmęli voru höfš ķ frammi. Minna hefur žó boriš į herstöšvarandstęšingum hin sķšari įr.
---
TEI markup © Board of Regents of the University of Wisconsin System, 2004. All rights reserved.
Those interested in using these texts for any purpose not covered under Fair Use must seek the permission of Stofnun Siguršur Nordals and the University of Wisconsin-Madison Libraries.