Madison, Wisconsin, April 1865
"Old Abe", eagle mascot of the 8th Regiment, Wisconsin Volunteer Infantry.
Photo by James F. Bodtker, Madison, Wisconsin.
Bodtker on this occasion attempted to photograph Old Abe by taking him to the roof in order to use the brightest light; but the eagle, sensing freedom, started to fly away and was nearly killed by the abrupt jerk when he reached the end of his short chain. This photograph was taken later in Bodtker's studio, and is sometimes referred to as the "Sanitary" photograph of the bird, since it was made for sale at the Northwest Sanitary Fair for the benefit of disabled soldiers, held in Chicago, 1865.
---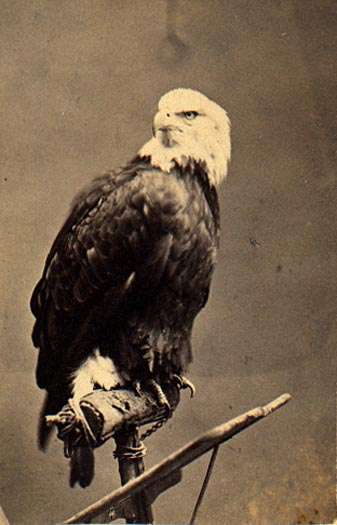 ---
From the copy owned by the State Historical Society of Wisconsin Visual Archives: Album 17.25