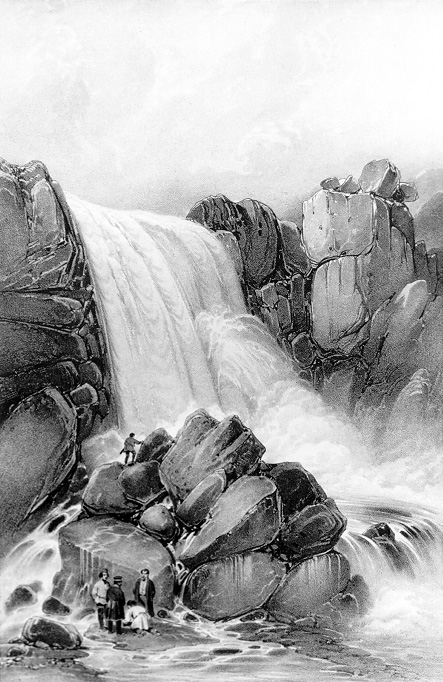 Axe River Falls (Öxarárfoss) in 1836. Lithograph from a sketch by August Mayer. The following description is from 1840:
Axe River [Öxará] has its source in Myrkvavatn between Súlur and Búrfell. It flows first east, then south, then east again — sometimes through gulleys, sometimes over gravel flats between grassy banks — down into Almanna Gorge, then along the gorge for a considerable distance, then out of it to the east, and finally into Lake Þingvellir, west of the homefield of the farm. There is a steep waterfall in the river where it drops down into the gorge, seven to eight fathoms high and equally broad when there is lots of water, though much narrower when the flow is slight. (ÁSs179)
In the foreground of the picture are several members of the Gaimard expedition, including (probably) Gaimard himself.

Source: VIG, Atlas historique, Plate 36.

Copyright © 1996-8 Dick Ringler. All rights reserved.



For technical assistance:
Library Technology Group
University of Wisconsin-Madison
General Library System