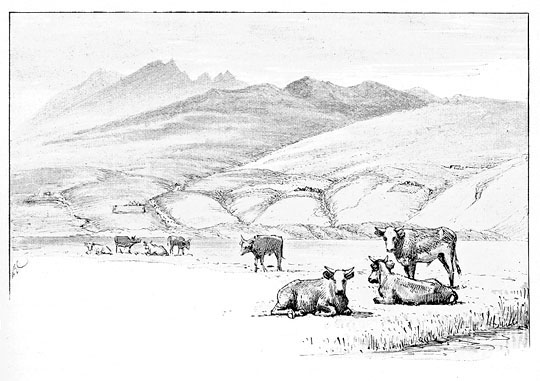 Hlíðarendi seen from Gunnar's Holm. The grassy area in the foreground is Gunnar's Holm (Gunnarshólmi), "the fertile holm where Gunnar's journey ended." Beyond it, looking northward, is Fljótshlíð (River Slope) and several of its farms, including Gunnar Hámundarson's farm at Hlíðarendi (Slope's End). Þverá (Cross River) is not visible in the picture; it flows along the foot of the slope from right to left (east to west). On the far horizon are the jagged peaks of the mountain Þríhyrningur. The watercolor was painted by W. G. Collingwood on 4 August 1897 during his visit to the leading saga sites of Iceland. Collingwood says that he wanted to capture "the view that Gunnar saw when he turned back from exile." He has this to say about Cross River:
The river is not one torrent, but many, swirling between shoals of gravel and boulders and carrying down the débris of the banks which it is continually destroying. Where in old days were pasture lands, now all is ruin. The [farm west of Hlíðarendi] was. . .being moved to higher ground, for after heavy rain the river was visibly eating away the land on which it stood. They were making hay on the bank of [Cross River], which was hourly undercutting and bringing down masses of earth; washing the turf, and the hay upon it, down stream, faster than they could save their crop. The path along the [slope] was no longer in existence; we had to take the hillside to get back to [Hlíðarendi]." (

PSI

31)
Source: PSI, Plate 27.

Copyright © 1996-8 Dick Ringler. All rights reserved.



For technical assistance:
Library Technology Group
University of Wisconsin-Madison
General Library System