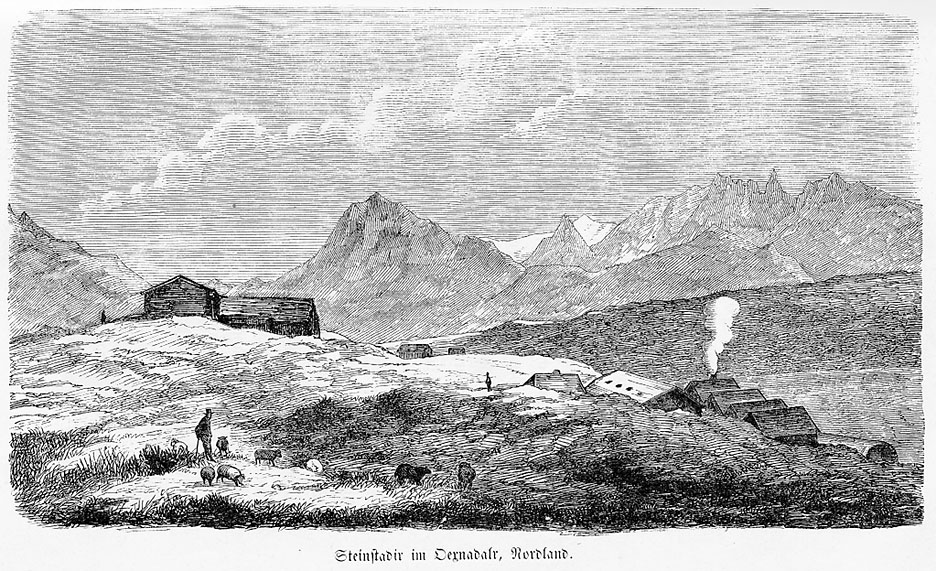 Steinsstaðir in Öxnadalur in 1858 (looking due southwest). The main residential complex is on the right, with the façades of its buildings facing away from the viewer (and toward the river bottom) and the large communal room (baðstofa) with its tiny windows located to their rear. The cowshed seems to have been part of the residential complex, since the half-cylinder on the far right is a hayrick. The large structures on the left are probably a sheep barn and storehouse. Jónas's mother was still living at Steinsstaðir when the sketch for this woodcut was made in 1858. No doubt the farm had presented a much more modest appearance when Jónas was growing up there fifty years before: the buildings shown in this sketch were built by his sister Rannveig's first husband, Tómas Ásmundsson (see KMÍ153).

Hraundrangi (Steeple Rock) is the sharp spire on the right. Below it and slightly to the left — just above the smoke rising from the farm kitchen — is Einbúi (The Solitary). The massive summit a little to the left of center is Þverbrekkuhnjúkur. The cone-shaped peak halfway between the latter and Hraundrangi is Kiðlingshnjúkur; at its foot, behind the intervening ridge (Bakkaháls), lies the mountain lake Hraunsvatn (Rockfall Tarn), where Jónas's father drowned in August 1816 when Jónas was eight.

The woodcut is from Gustav Georg Winkler, Island: Seine Bewohner, Landesbildung und vulkanische Natur (Braunschweig: Druck und Verlag von George Westermann, 1861), p. 45. Winkler (1820-1896), a Munich geologist and mineralogist, accompanied Konrad Maurer to Iceland in 1858. He traveled widely around the country, visiting the north in July and August, where he and Maurer apparently stayed at Steinsstaðir with Jónas's mother and older sister Rannveig (and the latter's second husband). This visit will have given Winkler the opportunity to make the sketch for the woodcut.

Copyright © 1996-8 Dick Ringler. All rights reserved.



For technical assistance:
Library Technology Group
University of Wisconsin-Madison
General Library System